There is a profound digital divide between people living in rural American areas, and those living in urban or suburban regions (especially in low-income, rural communities). One survey, conducted by the Pew Research Center, shows that rural Americans own less technology (including tablets, computers, and smartphones), and have a lower broadband adoption rate.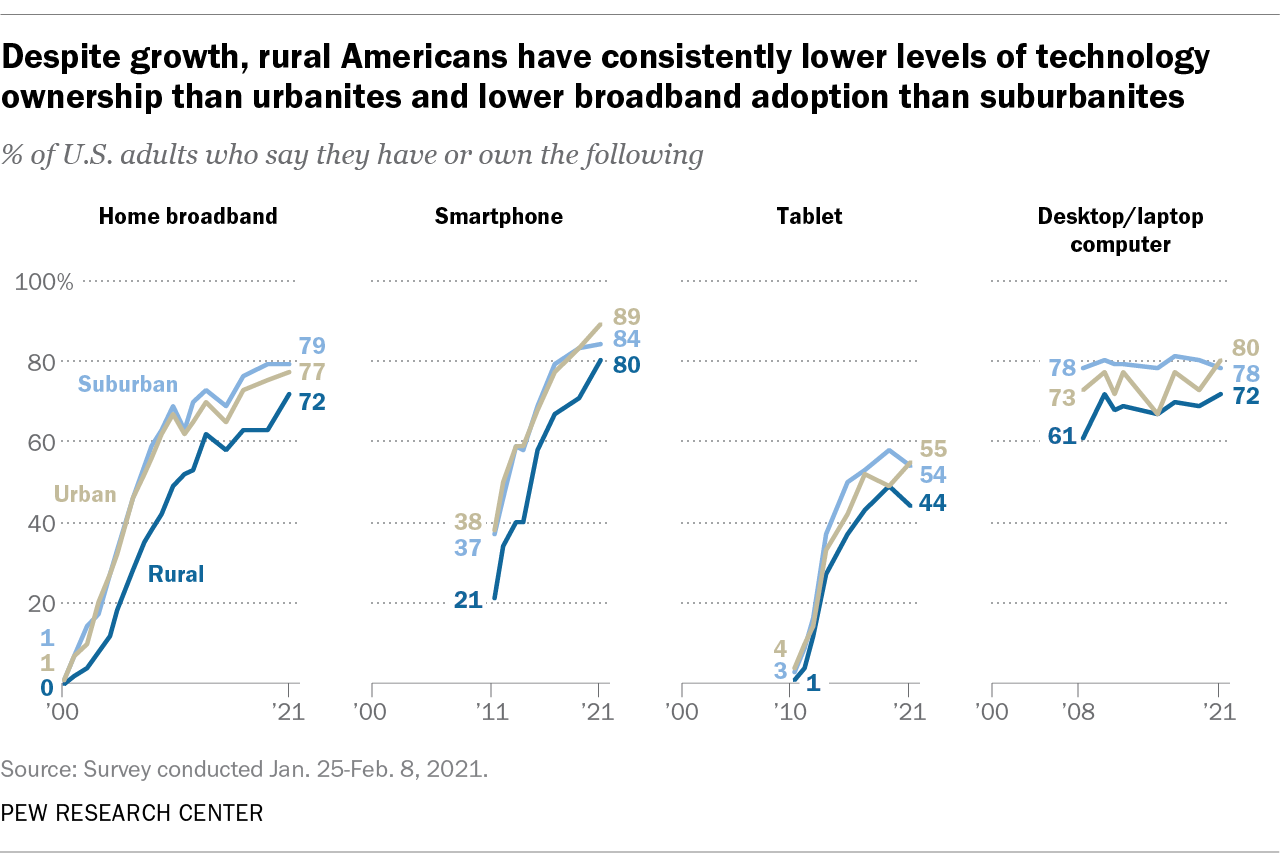 Poor internet access is amplified in rural Alaska, which is the area where Quintillion's fiber optic cable system serves. Approximately 15,000 Alaskans live in the Arctic Circle, a region considered to be a complex terrain with accessibility issues and below-zero conditions in the winter. This causes many logistical challenges, from having equipment delivered to installing this infrastructure in an icy, harsh landscape. Many Alaskans in the Northern Slopes region have gone without sufficient broadband access for most, if not all, of their lives.
The COVID-19 pandemic revealed just how necessary it is for every American, including people living in the most remote corners of the country, to have access to reliable internet service. Many American businesses, schools, and medical facilities moved their services online during the pandemic, turning to distance learning, remote work, or telemedicine.
This digital immersion caused many struggles, with rural communities being impacted the most. People who could not rely on a stable internet service from their home struggled to not only make ends meet, but access critical services as well.This national emergency made it apparent that internet service is not just a luxury, but a necessity. It's necessary to promote safety, financial stability, and growth within every community.   
In response to the shortfalls the pandemic unveiled, the American federal government allocated $65 billion of the recent Infrastructure and Jobs Act that was signed into law to help improve broadband service across the country. With this bill, there are several new funding opportunities Alaska governments, tribes, and businesses can potentially access to better meet rural Alaska's broadband needs.
How Does the Infrastructure Investment and Jobs Act Help With Broadband Access?
The new Infrastructure Investment and Jobs Act is a $1 trillion law that is designed to provide funding to help improve and build out various types of infrastructure across the country, including things like new roads, bridges, shipping ports, water projects, and internet infrastructure. One of the major goals of this bill is to help all Americans, especially those in in rural or low-income area, have affordable, high-speed internet options.
Part of this plan is to help fund infrastructure projects in the United States that meet Americans' broadband needs. These programs are also designed to directly benefit end-users by reducing service costs and helping bridge the digital divide by targeting underserved or unserved populations. This includes tribal communities.
From the $65 billion designated for improving broadband access, the funding has been broken up into several categories:
Broadband Equity, Access and Deployment (BEAD) Program: The largest chunk of the available broadband funding is going toward the BEAD Program, which is being managed by the National Telecommunications and Information Administration (NTIA). The administration has approximately $42 billion to allocate toward state grants that are at least $100 million per state, and subgrants that are awarded on a competitive basis. These grants cover costs of building broadband infrastructure, creating broadband maps, and deploying internet service at speeds of 100/20 Mbps.
Emergency Broadband Benefit Program: 14.2 billion has been dedicated to the Emergency Broadband Benefit Program, which is a government subsidy program in place to help households afford the costs of internet service. Qualifying households must have an income at or below 200% of the Federal Poverty Guidelines, or currently receive WIC benefits. The maximum monthly benefit is $30 a month, or $75 a month for households located on qualifying Tribal lands.
Digital Equity Act Grant Programs: This $2.75 billion of funding is in place to help improve broadband adoption and promote digital equity across the United States. $1.5 billion will go toward the State Digital Equity Capacity Grant Program, with $60 million designated for states to create Digital Equity plans, and $1.44 billion to then implement these plans. The remaining $1.25 billion is for the Digital Equity Competitive Grant Program. These monies go toward programs to help improve digital equity with things like training or community computer stations.
USDA ReConnect Grant Program: Approximately $2 billion is designated for a third and fourth round of the USDA Reconnect program. This program offers grants, loans, and combo funding to tribal communities, companies, and cities to help provide broadband services to rural and underserved areas. Funded projects focus on constructing, improving, and acquiring facilities and infrastructure. While loans are offered on an eligibility basis, grants are competitive with certain matching criteria.
NTIA Tribal Broadband Connectivity Program (TBCP): This program is expected to include another $2 billion in funding for broadband deployment projects in tribal communities. This funding covers a wide variety of needs, including middle- and last-mile projects, digital inclusion, broadband adoption, and construction projects.
NTIA Middle-Mile Program: Also funded under the BEAD program, $1 million has been dedicated to funding middle-mile projects to help increase internet speeds and redundancy and reliability. This infrastructure-focused funding supports the Internet backbone, helping interconnect local networks with major carriers.
Private Activity Bonds for Broadband: Under this new infrastructure law, there is also an available $600 million for Private Activity Bonds for broadband deployments. This allows state and local governments to issue bonds to fund Qualified Broadband Projects. These projects must help provide a more stable internet connection for one or more census block groups where more than 50% of residential households do not meet minimum broadband speeds of 25 Mbps downstream and 3 Mbps upstream.   
How The New Infrastructure Bill Can Help Support Alaska's Broadband Needs
Rural Alaska communities need internet infrastructure in order to achieve digital equity with other urbanized areas of Alaska and other parts of the United States. Quintillion took the first major step toward filling this need by building the first and only subsea fiber optic cable system in the Alaska Arctic. This system has enabled thousands of Alaskans to access fast, reliable, and affordable internet services.
Quintillion provides middle-mile backhaul services for last-mile service providers. While we don't deliver services straight to our customers, last-mile service providers, such as GCI, TelAlaska, ASTAC and Alaska Communication, utilize our fiber optic infrastructure to provide the best internet possible to their Alaska customers — including the Alaska markets of Nome, Kotzebue, Point Hope, Wainwright, Utqiaġvik, and Prudhoe Bay/Deadhorse.
Since Alaska has historically lacked substantial broadband infrastructure, we work alongside many tribal communities and internet companies in the state to help fill digital gaps in our community and empower Alaskans across the state to thrive in their work, education, health, and financial stability. We know that broadband access is essential to do this.
With reliable broadband service, Alaska communities can see improvements in several major areas:
Advancing public health and safety and improving emergency response measures
Helping local and tribal governments to better meet Alaskans needs
Supporting growth in major industries, such as oil, gas, mining, construction, and transportation
Enabling telehealth, remote work, distance learning, e-commerce, and online entertainment
Supporting national security measures in the Alaska Arctic, including ground-based defence systems
The Infrastructure Investment and Jobs Act provides key players in Alaska's telecommunication market with the funding to help make this goal a reality. We encourage tribal communities, local governments, and last-mile providers to review the qualifications for each of these funding opportunities and apply.
Need help navigating the new Infrastructure Bill? We can help you navigate what opportunities you might be eligible for. Contact us to learn more.